Tour of Quebec City and Winter Carnival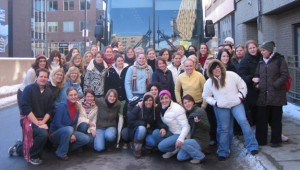 Québec is North America's oldest city with a unique European flair. Local tour guides will lead you on foot and via bus on a complete tour of Québec including the quaint Old City, the world-famous Plaines d'Abraham and so many more of the city's hidden charms. You will have time on your own to explore the City's maze of ancient streets, quaint boutiques and restaurants. An added bonus are the many special attractions of Quebec's world-famous Winter Carnival, including the International Snow Sculpture show, Dogsled Racing Championships, Bonhomme's Ice Palace, street performers and much more! An optional side trip to the Ice Hotel (for an additional charge) will round out your weekend.
Click here for more information about Quebec City
Included in the price of tour:
Round trip transportation on luxury motor coach with TV/CD/DVD.
2 nights at centrally located hotel.
Tour of Quebec City led by knowledgeable local guides.
All trips are escorted by fun and experienced chaperones.
An unforgettable weekend!
Fun bus ride with lots of movies, snacks and good times along the way!!
TRIP HIGHLIGHTS
FRIDAY:
On Friday afternoon, board our Luxury coach bus. Departure is from Riverside T-station, in Newton, MA(outside Boston). Stops are available in Hookset, NH and White River Junction, VT.
Arrive Friday evening in time for the opening weekend of the Annual Winter Carnival.
Our hotel is centrally located, within walking distance of downtown.
SATURDAY:
Experience the European flair of North America's oldest city with its maze of ancient streets, quaint boutiques and many restaurants.
Go on a walking – and bus – tour of the Old City with an experienced local guide
Lots of free time to explore the city and the Winter Carnival
Be adventurous…Hop on an Inner tube, try snow rafting, or climb an ice wall. See the inside of an igloo or go ice skating
Join us for an optional side trip to the amazing Ice Hotel (for an additional charge).
At night, enjoy the outdoor concerts, street performers and nightclubs… and don't miss the spectacular Bonhommes' Ice Palace lit up at night!
SUNDAY:
In the morning, eat breakfast at one of Québec's quaint bistros or patisseries
Get in some last minute shopping before midday departure for return trip home
Visa Application
If you have a passport from one of These Countries, you will need to apply for a visa to enter Canada.
PLAN AHEAD. The Canadian Embassy may take 3+ weeks to process your application.
For an on-line visa application, click on the flag below

Come with friends or meet new ones on one of our fabulous tours!!